FSA Vero Compact Review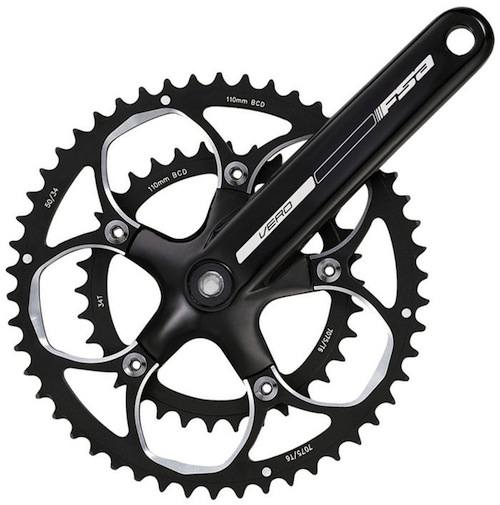 FSA, also known as 'Full Speed Ahead' has recently expanded their company becoming a leading and recognised manufacturer of cycling products. The new expansion shows FSA's commitment to improve the cycling market; the company have always aimed to create highly successful products that will improve every cyclist's performance and the Vero compact chainset is a perfect example of FSA dedication and confidence.
Produced for speed the Vero possesses a wide range of impressive features, Cold forged AL6061-T6 solid crank arms that have been joined to an AL7075 T6 stamped and CNC created chainring. Upon testing the FSA Vero compact is stiffer than we originally expected and while the chainring could have been rounder in design it remains fast despite being slightly heavier at 688 grams compared to other manufactures chainsets available on today's market. The constant rigidity compensated for any excessive weight, ensuring effective energy transfer. Furthermore, the Vero features FSA proprietary Power Drive spline system bottom bracket which possesses the same diameter measurements as those found on a square tapered BB, arguably tests show that the Vero lasted as long as a ISIS BB. The chainset is available for all 9 and 10 speed systems; the gears shift smoothly and are very fast.
The Vero is very easy to fit; ensuring cyclists are riding as soon as possible. The Vero has a black anodized and silver polished finish which makes the chainset set aesthetically pleasing. Unfortunately, the finish is not the best for durability; however, continual maintenance will ensure they maintain their high quality look, check out the Omega compact 10speed for an alternative. Nevertheless, the Vero Compact is excellent value for money and provides the cyclist with a sturdy, high performing chainset.