FSA K-Force Carbon Light Review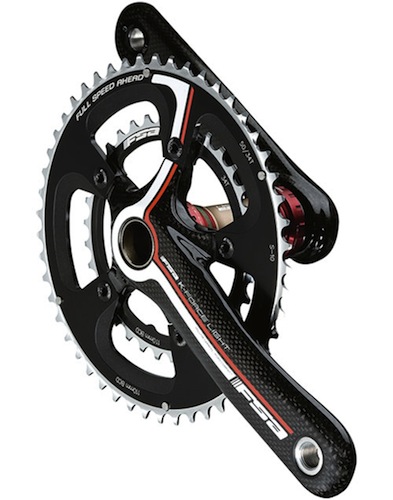 Leading manufacturer Full Speed Ahead (FSA) have been creating some of the most innovative designed cycling components used by professional athletes and enthusiastic recreational cyclist all around the global. This forward-thinking company have produced some outstanding chainsets and the FSA K-Force Carbon Light is definitely one of the best they have ever designed. The newly redesigned FSA K-Force Carbon Light has been created using a pioneering design, the 3K carbon weave material has been compressed to produce a chainset which features the lowest possible void areas.
The unique design of the K-Force Carbon Light also features hollow crank arms which have been integrated with a BB30 compatible axle. The entire crankset design possesses the optimum equilibrium between weight and rigidity. The K-Force Carbon Light weighs a mere 698 grams, a record low weight even for carbon standards, yet the crankset has maintained a high level of rigidity and is able to maintain high pedal loads for prolonged periods. The low weight and stiffness of the crankset makes it ideal for competitive road cyclists, with its lightness making it ideal for steep uphill climbs, while the unbelievable rigidity ensures no energy loss occurs with the crankset effectively transferring power between the cyclist and bike. The perfect combination of lightness and stiffness allows the cyclist to reach and maintain competitive speeds.
The K-Force Carbon Light also features ceramic bearings that are held in place by red anodised bearing caps, these caps reduce the amount of friction between the bearings creating a smoother and durable ride. The crankset has a Q-factor of 145mm, offers a great and comfortable pedalling position, and is particularly perfect for cyclists with a narrower pedalling stance. The chainrings glide in to shifts smoothly, while the two-tone graphics make the chainset aesthetically pleasing. The only fault found with this chainset was they do require regular but low maintenance, however, despite this single fault the K-Force Carbon Light possess an unbelievable amount of features which will definitely improve any cyclist's performance.