Campagnolo Record Pista Review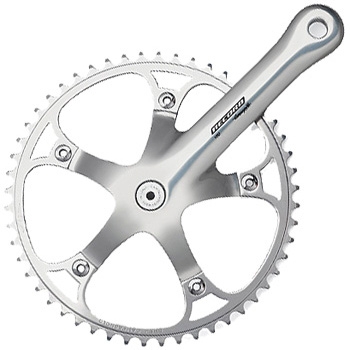 In 1933 Campagnolo was the only manufacturer who demanded professionally finished, advanced designed products for all cyclists. Today it is clear to see that Campagnolo have changed the world of road bikes, their innovative designs and use of advanced materials make them one of the leading cycling product producers in the world. The Campagnolo Pista groupset is one of the best products Campagnolo have ever created it features a set of high-range components, in particular the 1 piece forged, polished and anodized aluminium arms are very light in weight whilst maintaining a unbelievable amount of stiffness and strength. After intensive testing the arms remained extremely rigid, ensuring that energy was efficiently transferred at all times, this will undoubtedly improve any cyclist's performance.
The advanced 5 arm chain ring is extremely round, with a high quality finish, guaranteeing the crankset effectively glides into gear. Another positive aspect of the Campagnolo Pista chainset was how easy it was to install, as with all Campagnolo products they come complete with simple and straight forward instructions, ensuring that riders can quickly fit the crankset and begin riding straight away. One of the best features of the crankset is its lightness, weighing a mere 590 grams it is one of the lightest and strongest cranskets available on the market today. While the crankset is extremely light, our tests revealed that it maintains a high level of stiffness making it very durable. With the crankset installed and with its polished finished and laser etched branding it is a very attractive crankset that would look perfect and complement any bike frame.
Tests showed no faults on the Campagnolo Pista, showing that it provides great value for money and undoubtedly is one of the best track cranks available on the market, with its aerodynamic design it has been test and track proven by a number of riders who claim that it performs amazingly in the velodrome throughout the power range giving consistent results.
Campagnolo Record Pista Track
The Record Pista Track from Campagnolo has been designed from the ground up to excel in the velodrome.
The crankset, hubs and bottom bracket are track specific while the seat posts, pedals and headsets come from the highly regarded Record range. The chainset is available with either 165mm (48/49) or 170mm (48/50) crank arms and weighs in at just 592g.
Note – requires L-111 mm (asymmetric) bottom bracket.